Oh how I LOVE long weekends! It's so nice to have Kyle home an extra day & I know Cooper loves having more time to be silly with his Daddy.
Kyle took a half day on Friday so we jumped in the car & went to Moms. Before we left we turned Coop's car seat around to forward facing. We left at nap time. Cooper was SO excited about his new view that he chatted & jabbered for about half an hour before falling asleep. It was too cute.
We got to Mom's safely & enjoyed our time. We ate way too much food (fried rice, bbq ribs, ice cream, biscuits, candy, etc). Mom watched Coop while Kyle & I went to Pages on Pine. Not sure if I've mentioned it before but it's this AMAZING book store. All the books are donated (most coming from the county libraries) & all proceeds go back to the libraries. We've stuck gold quite a few times. We make sure we stop by when we're in town.
Mom also watched Coop so Kyle & I could go out on a date. We didn't know what we wanted to do so we just ended up going to dinner at a yummy BBQ joint. We both got ribs. Yum! Cooper had a great time playing in MeMa's yard & all the parks we explored.
Sunday after church we drove home. That night we went to the Malan's to celebrate Jared's Birthday. Erin rocked out some waffles & fried chicken as well as a German Chocolate Cake. (She's quite skilled in the kitchen) We had a fun time with the Malans & the Carrons!
Monday was a semi lazy day. After getting groceries in the morning, we came home & all took naps. Once nap time was over we snacked & headed out to another park. I like to call it "Toy Graveyard Park." The surrounding neighborhood families bring their used (but still working) yard toys & leave them for everyone to enjoy. Cooper had such a fun time.
What a fun weekend! So grateful for Kyle's extra time off, for the nice winter weather, the parks that Coop is able to enjoy grass & get his wiggles out, for Mom being close by, for a date with my baby daddy, for great friends, & MORE!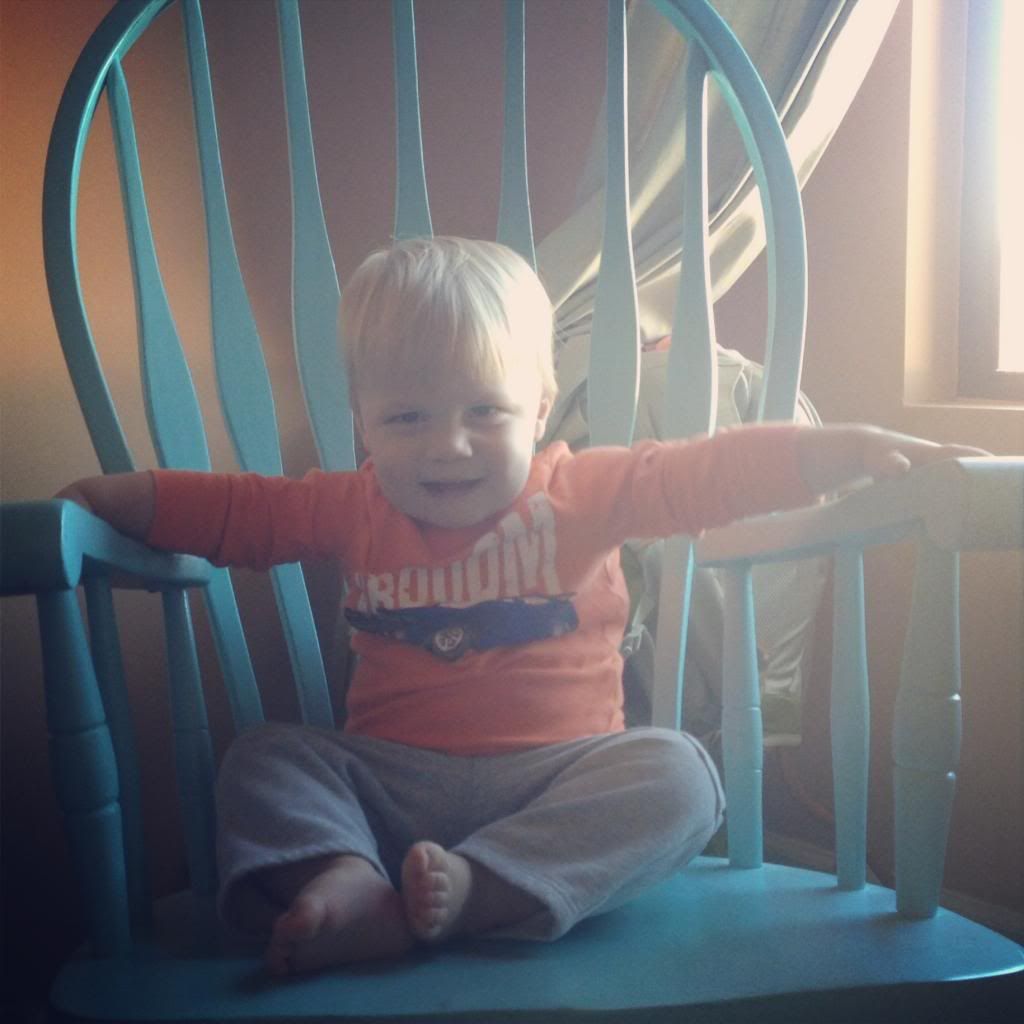 Cooper experienced his first official "time out" right before our trip. I don't
think he got the memo that he wasn't suppose to be having fun...